Are you thinking to invest with Mayhemfinancial broker? Read this Mayhemfinancial Review to understand if it is a scam or genuine broker and your money is safe with them or not.
Scam Victims Help has extensively researched the Mayhemfinancial Review and found several red flags that every trader should be aware of. Read our Mayhemfinancial review today to learn everything you need to know about this broker before signing up.
Broker Website – https://mayhemfinancial.com/
Headquarters or Area of Operation – 16-18 Monument St, London
Warnings – Not Recommended By Review Website Like Scam Victims Help
When you go to the Mayhemfinancial website, you will see right away that it is a fake site because of a few key things. First of all, this broker makes no mention of its regulation or, at the very least, the authority that supervises its operations. And here's why: Mayhemfinancial works illegally and without a license to provide financial services.
That's not all, either. This so-called "broker" is just a scam because it lacks important information and gives out wrong information. It makes implausible claims like "from zero to cryptocurrency in minutes," as well as other pretty straightforward claims that are used by all other shady brokers. If this isn't enough to give you the cold shoulder, keep reading the entire review for more information.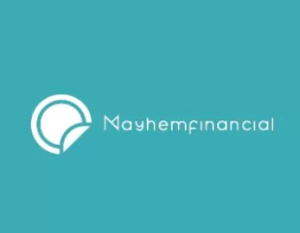 Regulation and financial security
When we dig deeper into the Mayhemfinancial "about us" section, we can't help but notice some extremely unsettling facts. First of all, the company says it is based in the UK, which is a country with strict rules and regulations for brokers who want to do business there. However, this broker makes no mention of being licensed, which seems pretty odd. We found out that Mayhemfinancial is doing business without a license and against the law when we looked through the records of the local watchdog, the Financial Conduct Authority (FCA).
The trading program from Mayhemfinancial says it has a "strong web-based platform" that is easy to use and looks nice.
However, after registering, we had to provide some further personal data to continue. Also, this broker says that you have to make your first deposit before you can sign up for a real trading account, which is, to say the least, strange. We were unable to see Mayhemfinancial's trading platform as a result.
Methods and costs for deposits and withdrawals
When we looked at the website more closely, we also couldn't find any information about how to pay. Even when we enrolled, nothing much changed because we kept running into errors when we tried to add money. The payment form was fairly straightforward and gave off a dubious vibe right away.
As you can see, there are no payment choices offered; you may only select the currency and the deposit amount.
But keep in mind that any broker who only accepts cryptocurrency payments can be trying to trick you. The explanation lies in the fact that using a cryptocurrency payment makes it feasible for the deposit to be both anonymous and irreversible, making it hard to get your money back.
How does the con operate?
Be very careful who you give your personal information, such as your phone number or email address. As soon as scammers get your phone number, they will call you to try to get you to invest right away.
They will claim that trading with them is risk-free, but that is exceedingly improbable, to say the least. Be prepared to hear that you can earn a quick and extraordinarily large return on investment as well. Of course, this is a flagrant lie. Scammers frequently force traders to make deposits that vanish into thin air.
However, before that, they might try to trick their trading software into making it appear as though your money is being invested. Additionally, they might deceive you into thinking that your outcomes are highly profitable. This is done specifically to increase your investment before you realize everything is a sham.
When you try to withdraw even a small amount, expect to be hit with a variety of hidden fees, and the worst-case scenario is that your withdrawal will be rejected no matter what.
Is Mayhemfinancial Legit or a scam? Final Thoughts
Sometimes scammers are increasingly using legitimate firms' details to add an air of legitimacy to their scams. The fraudsters will 'borrow' some information from a legitimate firm for the purpose of fraud. They may quote authorization numbers/company registration numbers and links to seemingly legitimate websites and even provide the real address of an authorized/ legitimate firm.
Consumers are advised to check our scam broker 2023 page to verify company details and to call the firm back directly using its advertised phone number. Always access the register from our website, rather than through links in emails or on a company/ person's website.
To sum up, all that has been said above in this Mayhemfinancial review, we give you the power to decide whether the broker is a scam or not. We request the readers move forward with extreme caution. 
Scam Victims Help specialists research the brokers and find if they are involved in scams. We researched a lot about brokers to assist customers in taking the right decision.
We suggest investors stay away from this broker and go for the genuine one. If you have been a victim of Mayhemfinancial scam or any other broker, do not feel embarrassed. 
File a complaint against Mayhemfinancial fraud right now and get instant help from our team in fund recovery!
Get help in forex scam recovery, crypto scam recovery, binary scam recovery, romance scam recovery, and also get a free consultation.
Visit our Facebook page
Visit our Twitter profile
Read our Quora updates
Visit our Tumblr profile
Learn About Cryptocurrency Scams
Also, check which brokers got the warning from the Italian regulator CONSOB.
Believe that it is possible to recover lost funds!