Introduction of Trade24 Review:
Scams are dangerous. It may crouch upon you one fine day and steal all your hard-earned money. The pandemic has either accelerated or given birth to more scams worldwide with a specific concentration on the financial market. Although scams in the financial market have been very famous due to the trade volume, the pandemic turned the industry into the breeding grounds of the scammers. In this review, we will provide our readers with detailed segments on why Trade24 seems to be a problematic broker and a potential scam. Read our full Trade24 review to know why.
Address:
Upon visiting the website of Trade24, we found out that the company claims to be based out of the UK. The company also claims to be registered by the regulation in the UK and provides us with a set of numbers that looks like their license number. However, a little investigation into the company's real location by our experts revealed thatTrade24 is actually based out of the Marshall Islands. One of the popular offshore zones for scam brokerage firms, Marshall Islands is the unofficial hub for scammers.
About the Company:
Trade24 claims to be a brokerage firm that provides a variety of services such as currency exchanges, CFDs, etc. The company states on their website that their trading accounts are made keeping a wide variety of customers and their needs in mind. You will soon come to know what other lies they have claimed on the website. Read on to find out.
Breaking the claims: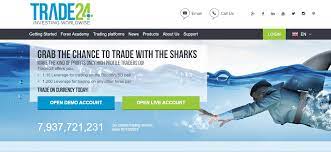 Does Trade24 have a license from any of the regulations?
No, even though Trade24 claims to be regulated by Financial Conduct Authority or the FCA, we could not find any such proof on FCA's official website. Trade24 is UNREGULATED. Your money is not safe with brokerage firms that are unregulated as there is no government body supervising these companies. One must always trade with firms that have proper regulation.
Is Trade24 Blacklisted/warned by any regulation?
Yes, Trade24 has been blacklisted and warned by various regulations around the world. The Financial Conduct Authority has a warning issued against Trade24 stating the company to be unauthorized. The International Finance Services Commission or the IFSC has accused Trade24 of doing complete forgery. The Financial Market Authority or the FMA has also issued a warning against Trade24 and asked the citizens of New Zealand to stay away from this potential scam. The French regulator AMF has given Trade24 a place in their warning list as well.
What is the leverage offered by Trade24?
Trade24 offers leverage of 1:200 to all account holders. The leverage offered by Trade24 is
Much more than what is offered by the legitimate brokers of the industry. This raises another red flag in this Trade24 review against the Trade24 scam.
What are the different types of accounts offered by Trade24?
Trade24 offers six different account types for their customers. These are called Classic Account, Silver Account, Gold Account, Platinum Account, Mega Account, and ECN Account. The minimum deposits of these accounts range from $500 to $50000. This raises another red flag against Trade24 in this Trade24 review.
Conclusion: Is the Trade24 scam real?
To sum up all the above-drawn points, we leave the decision upon you to judge whether Trade24 is a scam or legit. However, Trade24 shows all the signs of a potential scam and we warn our readers to stay cautious of this broker.
To read our latest broker reviews, click on MogaFX.
Get more updates from Scam Victims Help Facebook page
Get more updates from Scam Victims Help Twitter page
Get more updates from Scam Victims Help LinkedIn page
Get more updates from Scam Victims Help Tumblr page
Get more updates from Scam Victims Help Quora page