Scammed? Get Free Consultation!
Introduction to SunbirdFx Review:
If you have reached this page and are reading through the review to see why the title claims SunbirdFx is a scam, we have good news for you. At ScamVictimsHelp, we not only help customers with the fund recovery but also help them prevent it in the first place by publishing detailed reviews about the scammers that we receive complaints against. Read on to find out about SunbirdFx scam.
Address:
It is a common trait amongst scam brokers to list fake addresses on their website to make the interested traders believe that the company might be regulated. The brokerage firms that are regulated in offshore zones are more prone to this act, therefore, we request our readers to always cross-check the address provided by your brokerage firm on their website. In this case, SunbirdFx claims to have its headquarters based in London, UK. As the UK is regulated by one of the top-tier regulations, you must be thinking why are we suspecting SunbirdFx. The reason behind it is that SunbirdFx is LYING! SunbirdFx is originally located in Mahe, Seychelles.
About the company:
Founded in 2005, the only thing SunbirdFx is good at seems to be lying. From the above passage, it is clear that the company has already lied about its address. On their website, SunbirdFx claims to be a CFD and Forex broker with various tradable instruments such as Forex, Gold, Silver, CFD, oil, and Indices, etc. The company also claims to have a no-dealing desk through which the customers can directly contact the international banks for the best-priced feed through ECN. The no-dealing desks are not restricted to any account holders.
Breaking down the claims: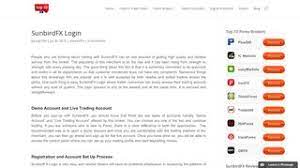 Does SunbirdFx have a license?
No, SunbirdFx is UNREGULATED. Despite having its headquarters in Seychelles, SunbirdFx claims on their website that they are from the UK. It is pretty clear that even if SunbirdFx has a license, it is from the offshore zone that it is based out of and holds no value at all in the financial market. Is the SunbirdFx scam real? Let us find out.
Is SunbirdFx blacklisted/ warned by any regulation?
Yes, SunbirdFx has been blacklisted by the Financial Planning Association, one of the top regulations of the US. For the same reason, SunbirdFx does not allow traders from the US. The FPA warned the traders to stay away from SunbirdFx and withdraw their money immediately if they have an account.
Secondly, SunbirdFx has been issued a warning by The Autorité des marchés financiers or the AMF of France. Similar to FPA, AMF has also warned the citizens not to trade with this potential scam broker. Two complaints against SunbirdFx surely take this SunbirdFx review to another turn.
What is the leverage offered by SunbirdFx?
SunbirdFx offers leverage of 1:200 as compared to the average leverage offered by the legitimate brokerage firms that are 1:30 and 1:50. It is clear from the first line itself that SunbirdFx is offering more leverage to their customers which puts the traders at the risk of losing their money.
What is the minimum deposit asked by SunbirdFx?
Without showing any hesitation at all, SunbirdFx has demanded a minimum deposit starting from 1000 USD to 30000 USD. The minimum deposits asked by the legitimate brokers never cross 50 USD. This yet again poses a red flag against the SunbirdFx scam in this review.
Conclusion of SunbirdFx review?
To conclude, after noting all the above-said points, we give our readers the liberty to decide whether SunbirdFx is a scam or not. We warn the readers to stay cautious of the potential SunbirdFx scam. If you have been scammed by SunbirdFx, fill the form and get help from our team of experts today!
To know more about scam brokers, read our latest review on 4xbrands.
Get more updates from Scam Victims Help Facebook page
Get more updates from Scam Victims Help Twitter page
Get more updates from Scam Victims Help LinkedIn page
Get more updates from Scam Victims Help Tumblr page
Get more updates from Scam Victims Help Quora page
Scammed? Get Free Consultation!