Introduction to MFXBroker Review:
Have you been scammed by MFXBroker? Or are you here while researching MFXBroker? Upon receiving numerous complaints regarding the ill practices of MFXBroker, we decided to investigate the issue and see whether MFXBroker is a scam or not. What we found will blow your mind. Read our detailed review on MFXBroker to know more about the brokerage firm and its practices.
Address:
MFXBroker allegedly states that their headquarters is in St. Petersburg in Russia. This claim cannot be believed as the only effort the company has done is to post lies on their website. Upon a little investigation into the address provided by MFXBroker, we found out that such a company does not exist in Russia. However, upon looking up the ownership of MFXBroker, we realized that MFXBroker is owned and operated by another brokerage firm that goes by the name of Master Services Inc. This parent company is registered in Belize, an offshore zone. This makes our suspicion clear that MFXBroker is an offshore broker.
About the Company:
From the first look at their website, it was clear to us that the people behind this organization spent almost no time designing or at least making the website look presentable. The website is lousy and takes a lot of time to even load. You will be shocked to see what all the list on their website. Read on to find more about the MFXBroker scam.
Breaking down the claims: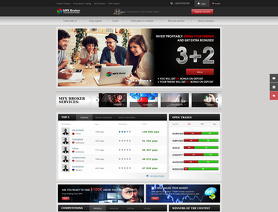 Does MFXBroker have a license?
As stated above, it has been stated that the company is based out of Belize as the parent company is registered there. Although Belize has a Regulatory body by the name of IFSC, it is not considered as good as the top-tier regulations such as the FCA, ASIC, etc. Therefore, even though there is little security of your funds with MFXBroker, it is still not considered safe because of the fact that the company has been in the market for the last 10 years and is still not regulated by the top tier regulations. This is a red flag in this MFXBroker Review against MFXBroker scam.
What is the leverage offered by MFXBroker?
MFXBroker offers leverage of 1:1000 to the standard account holders whereas, for the accounts that require higher minimum deposits, the leverage ranges from 1:100 to 1:200. Now, the readers must know that leverage is capped at 1:30 and 1:50 in certain countries due to the risk involved. Therefore, this takes us one step closer to the fact that MFXBroker is up to something bad and is putting its customers at risk.
What are the account types offered by MFXBroker and what are their minimum deposits?
MFXBroker offers four different account types to the customers. These accounts go by the names of Micro Account, Standard Account, ECN Account, and CFD Account. These accounts have different offers listed by the customers such as leverages, minimum deposits, spreads, etc. The minimum deposit of the Micro Account is $1 whereas the minimum deposit for the CFD Account is $1000.
Conclusion: Is MFXBroker scam real?
To conclude, after taking into consideration all that has been stated above, we give the liberty of deciding whether MFXBroker is a scam or not to our precious readers. We warn our readers to stay cautious of MFXBroker and if you have been scammed by MFXBroker, make sure to fill the complaint form and our team will get in touch with you!
To know more about the scam brokers, read our latest review of SunbirdFx.
Get more updates from Scam Victims Help Facebook page
Get more updates from Scam Victims Help Twitter page
Get more updates from Scam Victims Help LinkedIn page
Get more updates from Scam Victims Help Tumblr page
Get more updates from Scam Victims Help Quora page