Are you thinking to invest with WaveSolutions broker? Read this WaveSolutions Review to understand if it is a scam or genuine broker and your money is safe with them or not.
Scam Victims Help has extensively researched the WaveSolutions Review and found several red flags that every trader should be aware of. Read our WaveSolutions review today to learn everything you need to know about this broker before signing up.
Broker Website – http://wavesolution.co/
Headquarters or Area of Operation – Zurich, Switzerland
Warnings – Not Recommended By Review Website Like Scam Victims Help
Despite what this broker may claim, the most crucial fact regarding WaveSolutions is that it lacks the necessary authorization to provide financial services. Actually, without a forex license, this broker solely exists to deceive its clients into thinking it is a credible company. The Swiss Financial Market Supervisory Authority's website makes it easy to confirm that WaveSolutions is operating on the market in complete violation of the law.
Additionally, this broker conceals some crucial information regarding its trading terms. It eventually becomes apparent that WaveSolutions provides excessively dangerous leverage of 1:100 as well as very dubious payment options. Continue reading the next paragraphs to learn more.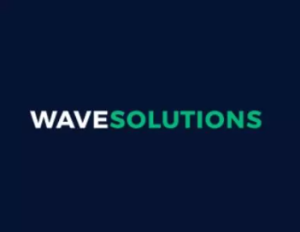 Regulation and financial security
The website of WaveSolutions appears strange at first sight. Many big claims and promises are made for dependable service and secure trading, but as you'll discover in a moment, this isn't the case at all.
To start, this broker states that its headquarters are in Zurich, Switzerland. Keep in mind that to conduct business legally, any broker located in this nation needs to hold a license from the Swiss Financial Market Supervisory Authority (FINMA). However, WaveSolutions makes no mention of the subject, which struck us as suspicious right away and prompted us to search the FINMA registers. It was discovered that this company lacks a license and is not permitted to provide financial services. Consequently, there is a strong likelihood that the address it displays is also phony. Not to mention, this broker doesn't say which business owns and operates it. WaveSolutions is therefore completely anonymous because we don't know its location or the identity of the people who run it.
In actuality, this broker asserts that it is governed by both the Cyprus CySEC and the UK's Financial Conduct Authority (FCA). These claims, however, are also untrue; despite our searches of both authorities' registers, we were unable to locate any information on WaveSolutions.
Methods and costs for deposits and withdrawals
You shouldn't be shocked to learn that there is no information regarding the payment methods either.
Even if there is a Visa or MasterCard alternative, WaveSolutions has once again flat-out lied about it. We attempted to deposit using it, however, an error stating "Not Active Payment Methods" appeared.
Even worse, the remaining possibilities are cryptocurrency payments. Keep in mind that cryptocurrency transactions are entirely irreversible and anonymous; therefore, if you value the security of your money, stay away from this market.
How does the con operate?
Be very careful to whom you give your personal information, such as your phone number or email address. Scammers will call you as soon as they acquire your phone number to convince you to invest immediately.
They will claim that trading with them is risk-free, but that is exceedingly improbable, to say the least. Be prepared to hear that you can earn a quick and extraordinarily large return on investment as well. Of course, this is a flagrant lie. Scammers frequently coerce traders into depositing disappearing out of thin air.
However, before that, they might try to trick their trading software into making it appear as though your money is being invested. Additionally, they might deceive you into thinking that your outcomes are highly profitable. This is done specifically to increase your investment before you realize everything is a sham.
When you try to withdraw even a small amount, expect to be hit with a variety of hidden fees, and the worst-case scenario is that your withdrawal will be rejected no matter what.
Is WaveSolutions Legit or a scam? Final Thoughts
Sometimes scammers are increasingly using legitimate firms' details to add an air of legitimacy to their scams. The fraudsters will 'borrow' some information from a legitimate firm for the purpose of fraud. They may quote authorization numbers/company registration numbers and links to seemingly legitimate websites and even provide the real address of an authorized/ legitimate firm.
Consumers are advised to check our scam broker 2023 page to verify company details and to call the firm back directly using its advertised phone number. Always access the register from our website, rather than through links in emails or on a company/ person's website.
To sum up, all that has been said above in this WaveSolutions review, we give you the power to decide whether the broker is a scam or not. We request the readers move forward with extreme caution. 
Scam Victims Help specialists research the brokers and find if they are involved in scams. We researched a lot about brokers to assist customers in taking the right decision.
We suggest investors stay away from this broker and go for the genuine one. If you have been a victim of WaveSolutions scam or any other broker, do not feel embarrassed. 
File a complaint against WaveSolutions fraud right now and get instant help from our team in fund recovery!
Get help in forex scam recovery, crypto scam recovery, binary scam recovery, romance scam recovery, and also get a free consultation.
Visit our Facebook page
Visit our Twitter profile
Read our Quora updates
Visit our Tumblr profile
Learn About Cryptocurrency Scams
Also, check which brokers got the warning from the Italian regulator CONSOB.
Believe that it is possible to recover lost funds!