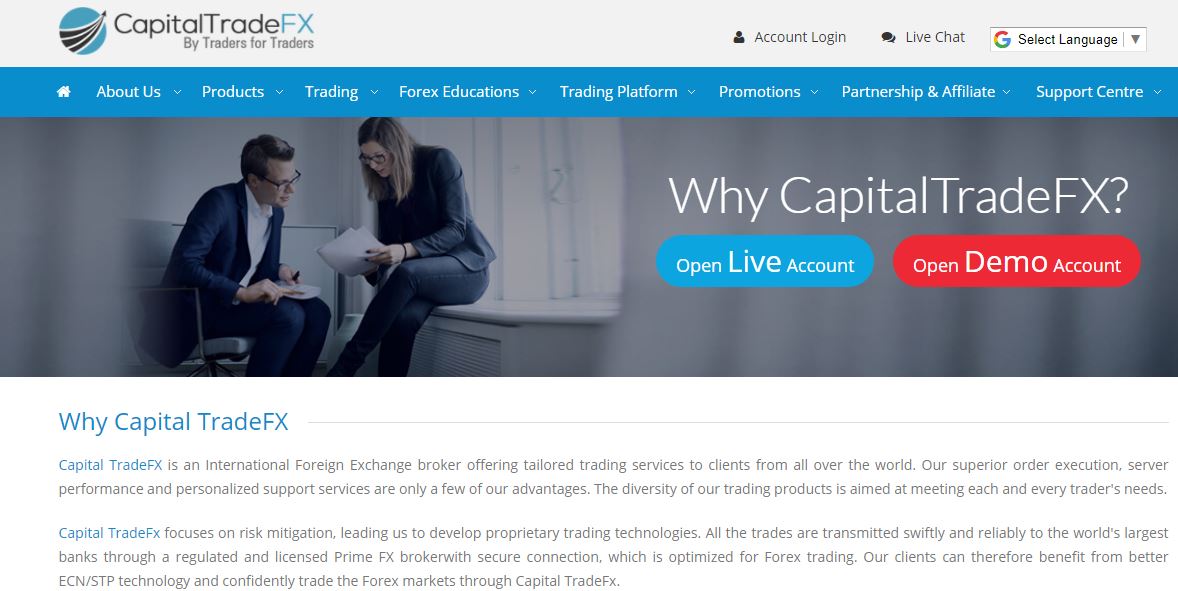 Introduction to Capital TradeFX Review-
Investors and traders are witnessing a sharp rise in forex scams and loss of funds. It is very important for the investors to identify the potential scam broker before investing a large sum of money with them. Trading is a popular and highly accepted way to make more money and earn higher profits. But, with the profits, the chances of getting scammed are also high as there is a number of fake brokers operating freely in the market without holding a legal license to operate. Capital TradeFX is one such broker that is offering attractive trading services to investors without holding a legal license to do so.
Let's have a look in the detailed Capital TradeFX review, to know about its working and red flags that should not be avoided while investing with this broker. Several investors have also complained about the Capital TradeFX scam and the activities that had led them to stop investing with this broker.
About Capital TradeFX and Capital TradeFX Review-
Capital TradeFX claims to be an International Foreign Exchange broker offering various benefits such as perfect money deposit, trading tools, etc. It is an offshore broker and offers traders and investors to trade in CFD's, currencies, Indices, Forex, etc. As mentioned on their website, Capital TradeFX is registered in Hong Kong and licensed in St. Vincent and the Grenadine. However, the Capital TradeFX is not regulated and licensed by any legal authority, which is a major red flag for the investors to do proper research about the broker before investing. The broker offers one-on-one training sessions with the personal trainer and free webinars to support the investors.
The Capital TradeFX offers their investors 3 accounts that are Mini, Micro, and Standard. The minimum amount required to deposit in a Mini account is $300 and $100 for the Micro and Standard accounts. The spreads offered are variable and the maximum leverage is 1:500 for mini and micro-accounts. Capital TradeFX also offers their investors with MT4 platform which is the most effective and popular trading platform among traders and investors.
Possible Red Flags For Capital TradeFX-
An unregulated broker that does not holds any license. Trading with an unregulated broker has a high chance of losing your funds and being scammed.
Several reports suggest that the MT4 trading platform offered by Capital TradeFX can be downloaded.
No demo account available. Various brokers offer the demo account facility for the investors.
Spreads offered are above the average as compared to the other brokers.
The leverage levels are high which are not good enough.
Some of the investors and traders claim that the broker is related to NoaFX, which increases the chances of this broker being a scam.
Is Capital TradeFX Scam or Legit?
By taking into consideration, all the points mentioned above, it can be concluded that Capital TradeFX is a potential scam broker that does not guarantee the protection of your hard-earned money. The CNMV (the National Securities Market Commission), a Spanish Regulator has also blacklisted the broker. It clearly defines that the Capital TradeFX cannot be trusted upon.
Get more updates from Scam Victims Help Facebook page
Get more updates from Scam Victims Help Twitter page
Get more updates from Scam Victims Help LinkedIn page
Get more updates from Scam Victims Help Tumblr page
Get more updates from Scam Victims Help Quora page